ST trend: neutral
On Friday we were noting that the ST trend was neutral as we had the normal pullback to ML after an up squeeze, but it was a bit too shallow. Sellers were inefficient on FGSI, but then also buyers showed the same with bearish EE vs the prior high. The market showed that it is undecided during the entire session as it fell quite dramatically after the NFP data, to take out ML, but win it back quickly and then it proceeded to take out the prior day highs after RTH open. Then another 2 whipsaws down to ML and up again near the highs to finish a chop shop.
Sunday and the o/n saw a continued decline and buyers lost ML and also took out Friday's lows. And while sellers have some reason to celebrate, the o/n low came near macro-ML and also put in an unconfirmed low on FGSI. That's concerning for sellers and unless they take out that low, that could indicate an important bottom. Price made it back to ML and it testing its underside, reaction here will be important. If buyers win back ML, then the o/n LOD is confirmed as an important turning point. If ML continues to reject price we could see a revisit of the o/n LOD. Buyers want to avoid a break of that level and of macro-ML to ensure that another leg down doesn't happen.
EWT brings a bit of clarity here, as Friday's highs were not "clean". Meaning the wave structure into those highs didn't look impulsive and it is presumed to be a b-wave high. That means that we should take out those highs before a potentially large decline happens. So this adds weight to FGSI's indication that the o/n LOD might be the low before a strong bounce. SPX cash trumps futures in EWT terms, so we'll have to see what RTH open brings. For not BTD seems to be the better R/R in the big picture. That being said, this is likely to be minor wave 4 of either a large B-wave or of the large C going up. And wave 4s and B waves are notorious for being very difficult to trade, with large and sudden swings both ways. So caution is warranted.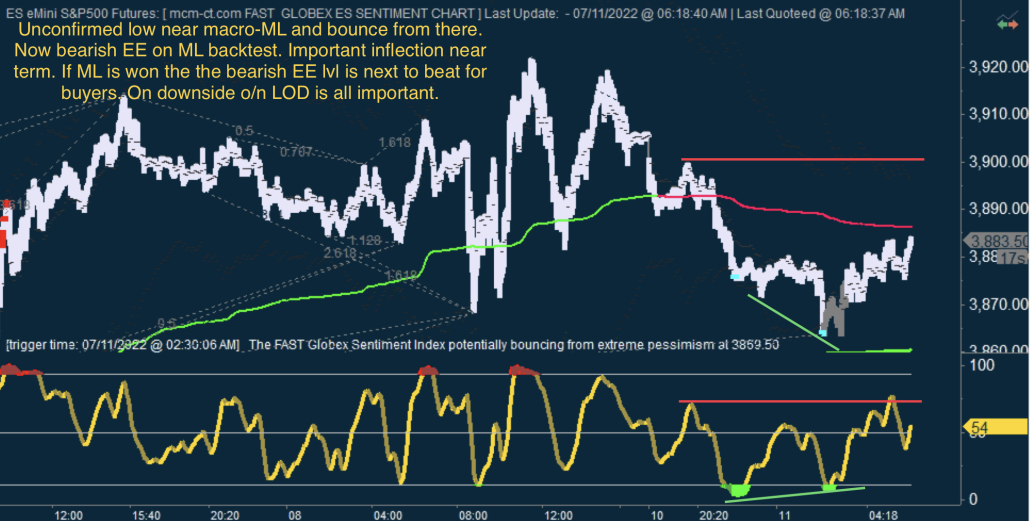 https://mcm-ct.com/wp-content/uploads/2015/05/mcmLogoFinalBlueHorizontal.png
0
0
mcm-Alex
https://mcm-ct.com/wp-content/uploads/2015/05/mcmLogoFinalBlueHorizontal.png
mcm-Alex
2022-07-11 06:23:33
2022-07-11 06:23:36
mcm daily market update 11.Jul.22