ST trend: up
Yesterday we noted that the ST trend was up, as buyers managed to consolidate sideways after the huge up squeeze off FOMC. We also mentioned that "As long as ML is below price, bulls have the edge.". That turned out ot be true. The initial push higher off the RTH open was a bull trap, as price fell abruptly afterwards right into the all important ML test. ML held (helped by a SE triggered on TT at the exact lvl) and bulls stepped in with force and never looked back.
The o/n was again bull friendly. AMZN and AAPL earnings were very well received and pushed the market even higher going about 40 points above the RTH close (which was near the highs of the session). Then price pulled back in the same sideways move like yesterday. However this move had even more limited downside as we are hovering near the highs still. After the big up squeeze from yesterday (2nd day in a row) the same normal expectation sees price making a ML test. As long as ML holds, bulls can keep running higher. Once ML will fail that would be the indication that the main trend is shifting to downside, until then bulls are in control.
As market is gapping up, the reaction to the gap in the first 30m-1h will be important. It could be an exhaustion gap given the vertical move we saw since Wednesday or it could be a continuation gap which runs to squeeze the last remaining bears. Pay attention to the RTH open and reaction after it.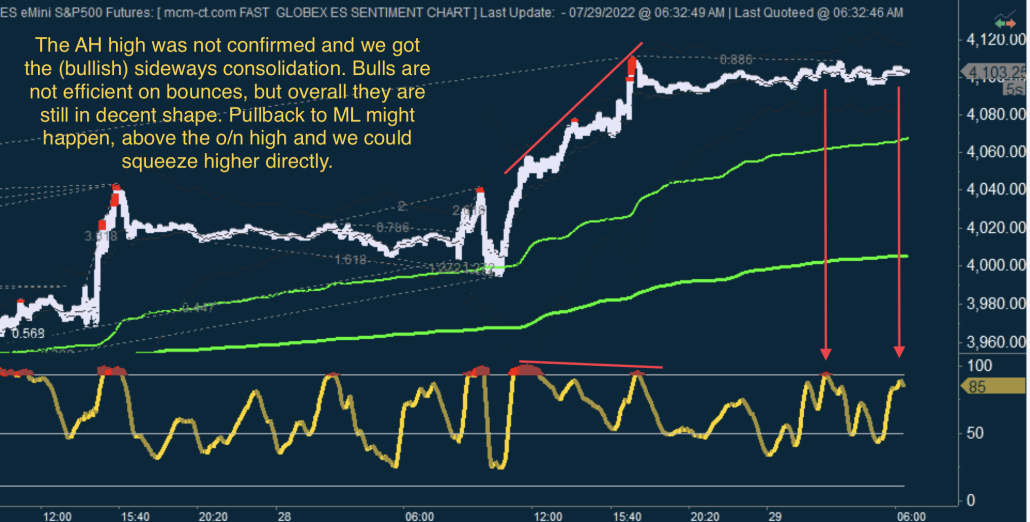 https://mcm-ct.com/wp-content/uploads/2015/05/mcmLogoFinalBlueHorizontal.png
0
0
mcm-Alex
https://mcm-ct.com/wp-content/uploads/2015/05/mcmLogoFinalBlueHorizontal.png
mcm-Alex
2022-07-29 06:43:51
2022-07-29 06:43:54
mcm daily market update 29.Jul.22