ST trend: neutral
The market threw in 2 "there and back again" moments as it took out Friday's high in the o/n session, only to give up all those gains and test last week's lows during the RTH session. There buyers found their footing again and rallied right back up to the highs again.
The o/n did little to resolve the situation as we had the usual push to minor new highs, then consolidation back to ML. So far ML is holding, but buyers are unable to move significantly past the highs. FGSI is also showing large swings both ways, so for now it seems the near term trend is up for grabs. ML and macro-ML are the main area and line in the sand. If these are lost, then sellers would take the lead and quite possibly take us lower than last week's lows. If ML and macro-ML are defended, then buyers could start to squeeze higher. Binary outcome so far.
In terms of the big picture, the EWT options also look binary. Either we are already in wave 3/C going (buyers would need to continue higher directly for that), or we just finished a complex correction wave b of 2/B and we should head lower in a minor c wave (or larger 2/B). Target for this would be 3700ish, so buyers need to step in here to avoid that.
Also a note on the new additions to FGSI and IGSI charts. Fib and geometric ratios have been added to these price charts and as can be seen they work quite well. Risk management is paramount for these though, so if playing the convergence of lvls, stops below that lvl are a must. They caught all significant highs/lows so far, so when they trigger it's definitely worth paying attention to.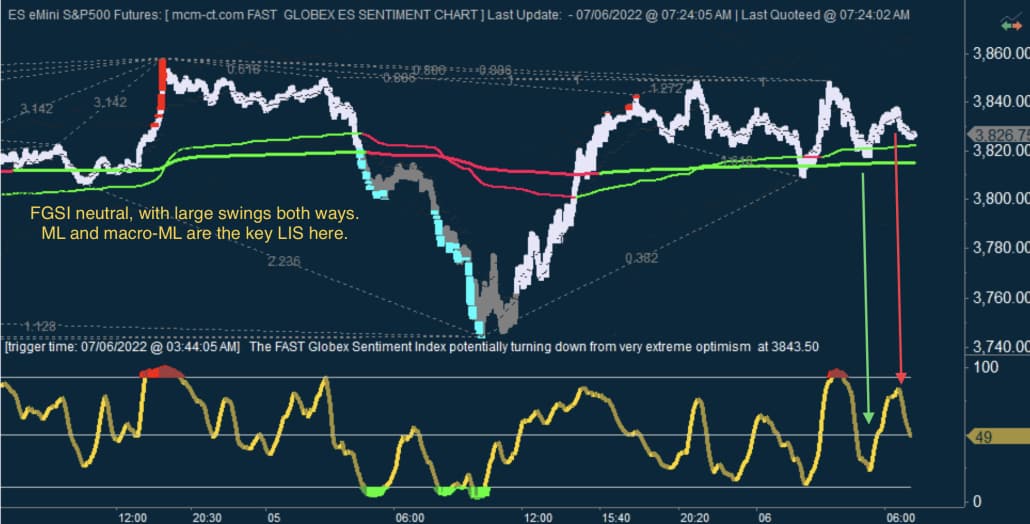 https://mcm-ct.com/wp-content/uploads/2015/05/mcmLogoFinalBlueHorizontal.png
0
0
mcm-Alex
https://mcm-ct.com/wp-content/uploads/2015/05/mcmLogoFinalBlueHorizontal.png
mcm-Alex
2022-07-06 07:30:50
2022-07-07 08:39:59
mcm daily market update 06.Jul.22