Summary: all 3 GSIs had unconfirmed highs at Monday's high, which means we are at an important inflection point. Sellers continue to be inefficient, however if FGSI breaks below a bullish EE level that would be a big warning that we might get a bigger correction. If the bullish EE level is defended, then another squeeze into the highs is possible. TT signals (danny, momentum, 400bar MA and ML) will be helpful in identifying early which scenario will play out. Breaking below ML would be a big statement from sellers (which would coincide with breaking the bullish EE too).
ST trend: up, with reversal risk
The late Friday melt-up into the long w/e produced extreme optimism on FGSI and then a series of unconfirmed highs. However Sunday and Monday saw price action continuing to grind up, while FGSI showed that sellers were extremely inefficient on all pullbacks which led to more and more highs. We currently have 2 unconfirmed highs on FGSI, from where the market pulled back, but again sellers were very inefficient and generated bullish excess energy (EE) vs the prior trip here (close to extreme pessimism). That is a 1st important level, if sellers are going to take initiative they would need to break below. If that happens, it would be a sign that at least ST, the character of the market is changing. Buyers are favorites now, so they simply need to defend that level and if so, then another trip to the highs is very likely.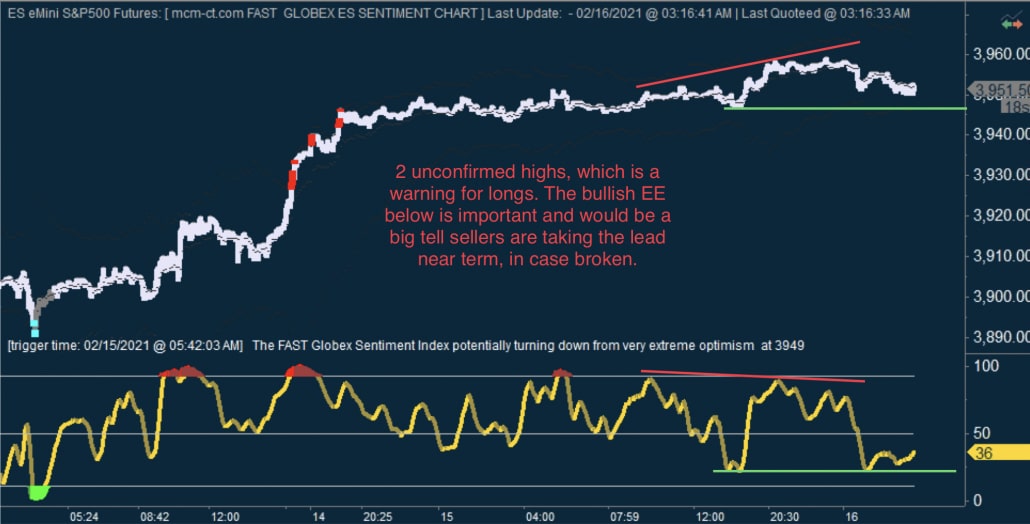 IT trend: up, with reversal risk
We had some interesting developments also on the longer term GSIs, so we will cover them today as well. IGSI moved similarly to FGSI and made a big confirmed high on the open on Sunday, but then pulled back strongly, while price continued to grind higher. Now it dropped to below mid value after it put in an unconfirmed high at Monday's high. That sets up class B bullish EE already and means another squeeze up is possible. However, if FGSI breaks the bullish EE level, then we need to start watching the bullish EE levels on IGSI as breaking those would be more serious.
MGSI peaked and made a confirmed high at extreme optimism levels, which is again a warning this rally is getting very extended. It also started to pullback from there, while price continued highs, which makes Monday's high unconfirmed also on MGSI. A bigger pullback from MGSI extreme optimism is likely, the only question is if we will get one immediately or get another squeeze higher first into a clearer unconfirmed high.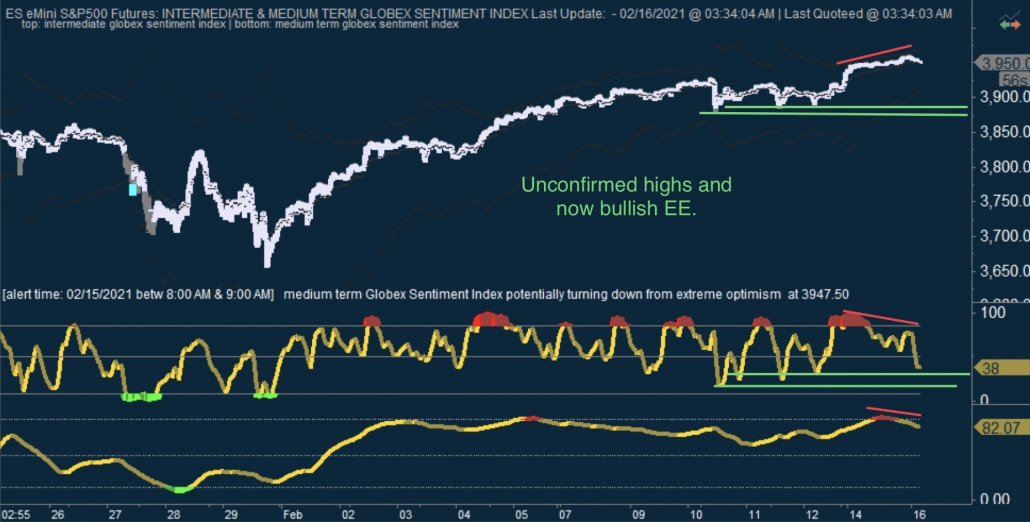 https://mcm-ct.com/wp-content/uploads/2015/05/mcmLogoFinalBlueHorizontal.png
0
0
mcm-Alex
https://mcm-ct.com/wp-content/uploads/2015/05/mcmLogoFinalBlueHorizontal.png
mcm-Alex
2021-02-16 03:39:37
2021-02-17 03:57:11
mcm daily market update 16.Feb.21