ST trend: down
Yesterday the sellers showed the true nature of this market as they dropped SPX a whooping 4% and we had a gap 'n go with relentless selling all day. As I have shared in the members' chat room, I have been bearish on these bounces and I think what was published in the daily update 2 days ago pretty much sums it up:
"the target for this bounce is 4080-4100. That zone was reached already, but because of the shape of the waves, I do not think it's complete. I would expect a pullback here to solve the overbought status, then another push higher towards the upper end of the target zone before a larger drop occurs. Just to mention - if my read is correct, it is possible that once this push higher completes, the market can drop below last week's lows. So this is not the place to chase higher for the last 20-30 points, as downside potential is 10x that."
Well, we did get close to 4100 in the AH sessions on Tuesday and early on Wed, before we dropped to last weeks' low today in the am. So that call was eerly accurate.
The question now becomes: what now. Immediate term, buyers are trying to bounce off an unconfirmed low on FGSI and IGSI, while MGSI almost made it to extreme pessimism. Which does put that low as a potential important ST low. Buyers would need to defend those lows for dear life to avoid another repeat of yesterday and potentially a capitulatory crash. On the upside, buyers need to sustain a breakout above 400bar MA and danny and attempt to win back ML. If ML is won back (big IF), then that would aleviate the pressure from the buyers and potentially start a larger short squeeze.
In the bigger picture, the market is in a very fragile state. We dropped a lot and trapped a lot of buyers which jumped in on Monday-Tuesday happily proclaiming the dip is done. Regardless of the immediate term moves, the correction is likely still not done as we didn't see yet the type of capitulation needed before such a move finishes. I am looking for VIX >40 and SPX somewhere in the 3600 area, possibly lower, as targets. So any bounces should be viewed as counter-trend. If buyers win back ML in a sustained way, then that would need to be re-assessed.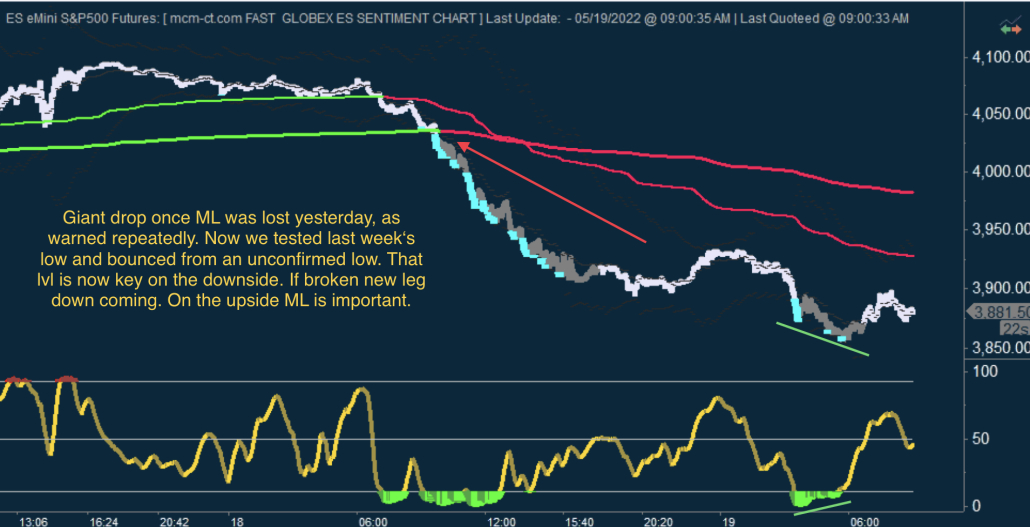 https://mcm-ct.com/wp-content/uploads/2015/05/mcmLogoFinalBlueHorizontal.png
0
0
mcm-Alex
https://mcm-ct.com/wp-content/uploads/2015/05/mcmLogoFinalBlueHorizontal.png
mcm-Alex
2022-05-19 09:04:18
2022-05-19 09:04:21
mcm daily market update 19.May.22