ST trend: down (with bottoming attempt)
Yesterday we were noting that the ST trend was up as buyers had regained ML and sellers were inefficient on the pullbacks. We did mention that CPI release is "likely to cause some spikes and finally give the direction for at least the 1st part of the day. Overall the market remains weak as any bounce, even large ones, continue to get sold hard. Buyers need to break resistance, then start holding supports on pullbacks to reverse the big trend. Otherwise any bounces are sells.". That played out exactly. The CPI release caused a massive drop erasing all the gains buyers managed to build. The it stopped at the 3950 support lvl and staged an impressive bounce into the 1st hours of the RTH open. After that buyers failed to hold ML and we sold off to new lows.
The o/n continued the bearish character and dropped to lower lows. Buyers are attempting to stick save 3900 and FGSI stubbornly refused to confirm the lows. We now have 3 consecutive unconfirmed lows on FGSI as well as an unconfirmed low on IGSI. So there is at least a bottoming attempt ongoing. Buyers must defend those lows and break the 1st bearish EE lvl to confirm at least a ST low is in. Otherwise the unconfirmed lows set-up can get broken and we continue to sell off.
As a side note - it looks like markets are gripped by extreme fear. It is likely we are going to need a capitulatory action before we find a more meaningful low. As repeated for weeks already, the intermediate target for this down move is, in my opinion, in the 3600 range. That's not even that far anymore as it's "only" 300 points from where we are. Considering that we already dropped from 4600 at the end of March and the brutal sell-off in many stocks, this is likely the initial stage of a bear market. We should get a larger bounce after this capitulatory low, but new ATHs are unlikely to happen for a very long time.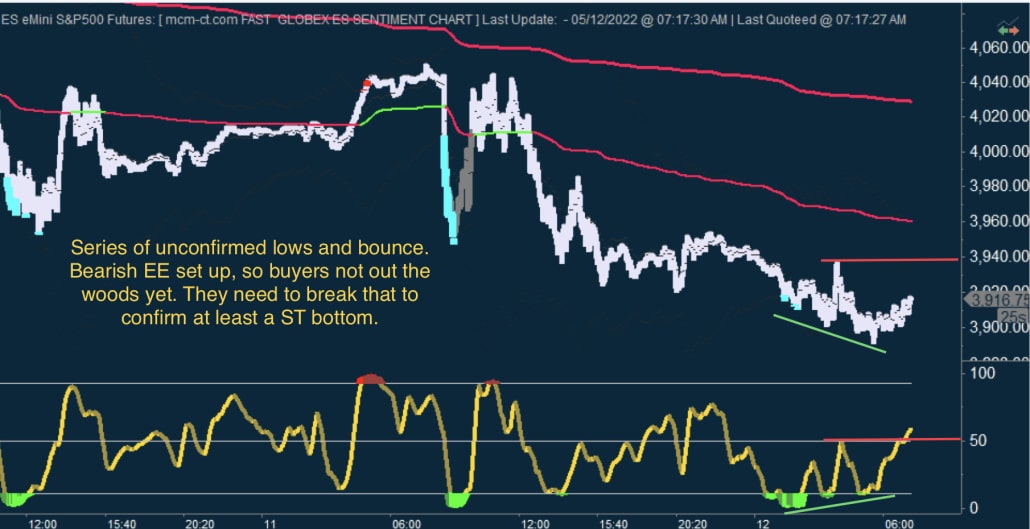 https://mcm-ct.com/wp-content/uploads/2015/05/mcmLogoFinalBlueHorizontal.png
0
0
mcm-Alex
https://mcm-ct.com/wp-content/uploads/2015/05/mcmLogoFinalBlueHorizontal.png
mcm-Alex
2022-05-12 07:21:12
2022-05-12 07:21:15
mcm daily market update 12.May.22