ST trend: up (with potential ST pullback)
Yesterday we were noting that the trend was still up, as sellers were inefficient, but were warning that a pullback could be coming to test ML as FGSI was showing an unconfirmed high. That is exactly what happened. The unconfirmed high on FGSI led to a pullback into a ML test. The test held quite comfortably (ES never touched ML, while YM overlapped it briefly) and from there the buyers launched another push higher.
The o/n saw continued upward pressure as buyers kept making higher highs, while sellers were inefficient on pullbacks. The main achievement of the buyers is that now they finally broke the initial bearish EE level on IGSI. They also broke the closer unconfirmed highs on FGSI and turned them into confirmed highs. Price is also very close to the ATH, so the trend is clearly up. For the immediate term, we do have FGSI at extreme optimism, so a pullback could happed anytime from here. However, it depends how price will act on the TT lines (momentum, danny and 400bar MA). As usual, if danny gets broken, then a trip to 400bar MA below would be expected. If that also gets broken, then another ML test might be in the cards. As long as these lines hold, we could continue higher with only shallow pullbacks, depending on how FGSI shapes up. IGSI has a lot of room fwiw.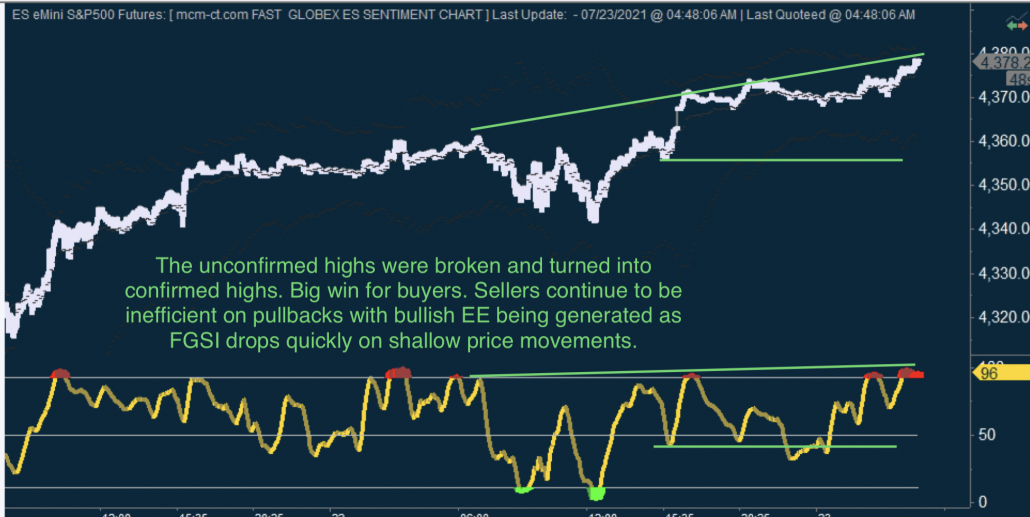 https://mcm-ct.com/wp-content/uploads/2015/05/mcmLogoFinalBlueHorizontal.png
0
0
mcm-Alex
https://mcm-ct.com/wp-content/uploads/2015/05/mcmLogoFinalBlueHorizontal.png
mcm-Alex
2021-07-23 04:52:32
2021-07-26 08:28:30
mcm daily market update 23.Jul.21