ST trend: down (with potential bottoming attempt)
On Wednesday we were mentioning that the ST trend was neutral as both sides were inefficient via FGSI and set up both bullish and bearish EE. Those levels were mentioned as important for breakout/down. The market dropped on the RTH to test the bullish EE level and held it narrowly, proceeding afterwards into a big bounce that took out the bearish EE level. They definitely won the battle when they held the bearish EE level.
Yesterday saw buyer euphoria continue as the market ramped another 20 points above Wednesday's high. It then started dripping lower very slowly before it picked up speed and outright crashed. From top to bottom we travelled more than 120 points. We do have now a potential bottoming zone. For the 1st time since this big decline started buyers have been building higher lows, despite bearish EE showing up on FGSI. And they have also started to whipsaw danny, which has kept a lid on bounces since near 4700. Buyers are not out of the woods yet, as they have been unable to hold above danny, while FGSI still has bearish EE vs a level that is almost 40 points higher. Nevertheless the fact that danny is no longer capping price is a 1st warning buyers are attempting to bounce back. If they can win back also 400bar MA, then that would be additional confirmation of a bigger low in the works. Buyers need to start holding danny as support in order to avoid a potential run to a lower low.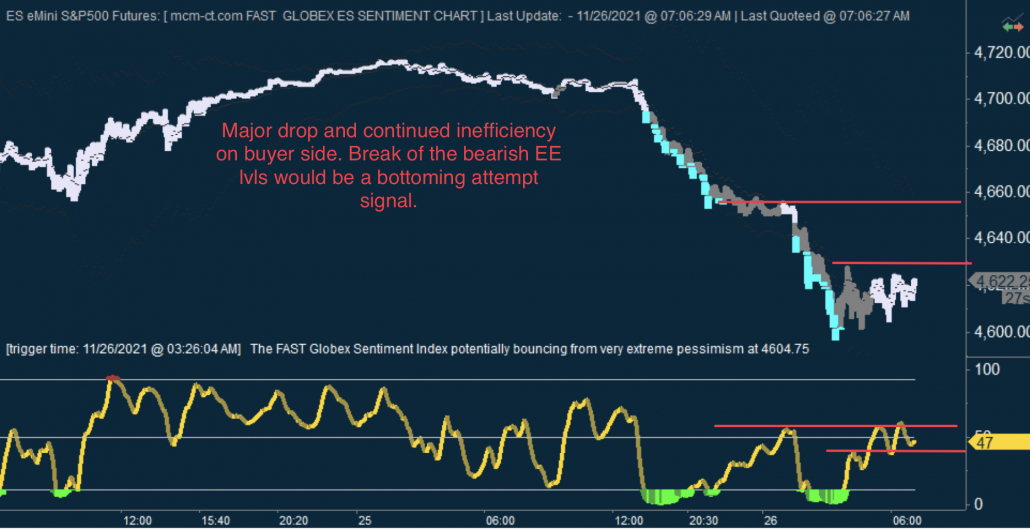 https://mcm-ct.com/wp-content/uploads/2015/05/mcmLogoFinalBlueHorizontal.png
0
0
mcm-Alex
https://mcm-ct.com/wp-content/uploads/2015/05/mcmLogoFinalBlueHorizontal.png
mcm-Alex
2021-11-26 07:12:15
2021-11-26 07:12:17
mcm daily market update 26.Nov.21